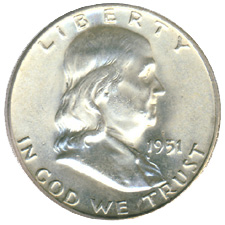 The Franklin Half Dollar was produced from 1948 to 1963, with mintages spanning a wide range. The lowest mintage issue was for the 1955 Philadelphia issue at 2,498,181, while the highest mintage was for the 1963-D at 67,069,292.
Coins were produced for circulation at the Philadelphia, Denver, and San Francisco Mints. Due to the nature of the design, Franklin Half Dollars are often encountered with weak strikes or excessive contact marks that preclude higher grades. As a result, despite higher mintages for some years, gem condition coins with full bell lines can be elusive.
The table below presents the mintage figures for circulation strike Franklin Half Dollars. There are a total of 35 different date and mint mark combinations for the entire series.
Franklin Half Dollar Mintages
| Issue | Mintage |
| --- | --- |
| 1948 | 3,006,814 |
| 1948-D | 4,028,600 |
| 1949 | 5,614,000 |
| 1949-D | 4,120,600 |
| 1949-S | 3,744,000 |
| 1950 | 7,742,123 |
| 1950-D | 8,031,600 |
| 1951 | 16,802,102 |
| 1951-D | 9,475,200 |
| 1951-S | 13,696,000 |
| 1952 | 21,192,093 |
| 1952-D | 25,395,600 |
| 1952-S | 5,526,000 |
| 1953 | 2,668,120 |
| 1953-D | 20,900,400 |
| 1953-S | 4,148,000 |
| 1954 | 13,188,202 |
| 1954-D | 25,445,580 |
| 1954-S | 4,993,400 |
| 1955 | 2,498,181 |
| 1956 | 4,032,000 |
| 1957 | 5,114,000 |
| 1957-D | 19,966,850 |
| 1958 | 4,042,000 |
| 1958-D | 23,962,412 |
| 1959 | 6,200,000 |
| 1959-D | 13,053,750 |
| 1960 | 6,024,000 |
| 1960-D | 18,215,812 |
| 1961 | 8,290,000 |
| 1961-D | 20,276,442 |
| 1962 | 9,714,000 |
| 1962-D | 35,473,281 |
| 1963 | 22,164,000 |
| 1963-D | 67,069,292 |