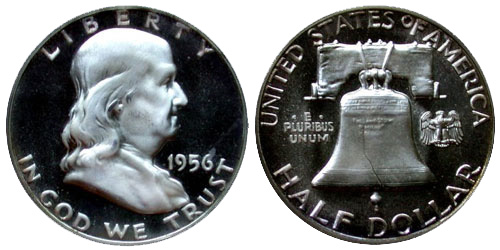 The 1956 Franklin Half Dollar (Buy on eBay) was the second of two years when production for the denomination was limited to the Philadelphia Mint.
Higher grade coins and those displaying Full Bell Lines are much easier to locate compared to previous years and other issues of the series. Pieces graded up to MS66 FBL can be found at relatively affordable prices. Many of these pieces have their origin from the 1956 Mint Set and will display indicative toning. Attractively toned pieces or fully brilliant pieces can command a premium.
The 1956 Proof Franklin Half Dollars struck at the Philadelphia Mint are found in two varieties, known as Type 1 and Type 2, which can be differentiated by the appearance of the eagle on the reverse of the coins. The eagle on the Type 1 will have four wing tips to the left of the perch, and the Type 2 will have three wing tips to the left of the perch, as well as greater articulation of the feathers and neck. The Type 1 is the rarer variety representing about 5% of the total mintage.
In general, the proof half dollars from this year are of exceptional quality compared to previous years and may display deeply frosted cameo finishes. A high grade, deep cameo proof can be absolutely stunning for this year.
1956 Franklin Half Dollar Specifications
Designer: John R. Sinnock
Composition: 90% Silver, 10% Copper
Weight: 12.50 grams
Diameter: 30.6 mm
Edge: Reeded
1956 Franklin Half Dollar Mintages
1956: 4,032,000
1956 Proof: 669,384