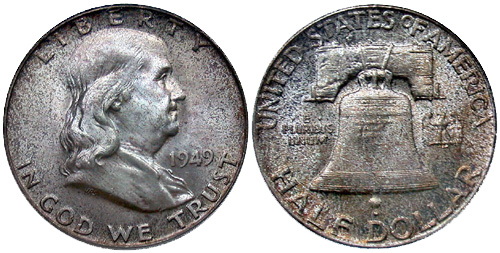 Despite having similar mintages to the previous year, the 1949 Franklin Half Dollars (Buy on eBay) are generally more elusive as the coins were not as frequently saved. For this year, production took place at the Philadelphia, Denver, and San Francisco Mint facilities. The latter facility had not produced the denomination since 1946 when the previous design was in use.
The 1949-D Franklin Half Dollar is ranked amongst the most difficult issues of the series to acquire in gem condition. It carries a premium in the grade MS65 with or without Full Bell Lines. Coins graded above this level are extremely scarce.
The 1949-S has one of the lower mintages of the series at 3,744,000 pieces and has historically been considered a key date to the series. The issue carries a premium in the lower mint state grades. Interestingly, a small number of 1949-S Franklin Half Dollars have been found to have proof-like surfaces. These coins will have deeply mirrored fields and extremely sharp strikes. The grading service NGC has given the PL (proof-like) designation to less than two dozen coins out of more than two thousand graded.
1949 Franklin Half Dollar Specifications
Designers: John R. Sinnock
Composition: 90% Silver, 10% Copper
Weight: 12.50 grams
Diameter: 30.6 mm
Edge: Reeded
1949 Franklin Half Dollar Mintages
1949: 5,614,000
1949-D: 4,120,600
1949-S: 3,744,000