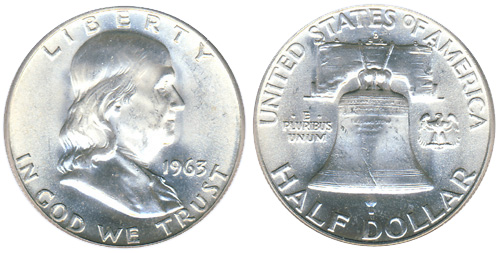 The 1963 Franklin Half Dollar (Buy on eBay) represented the final year for the series. This was despite the fact that there was a law in place requiring a duration of at least 25 years before the design for a circulating coin could be changed. Legislation was rushed through Congress at the end of 1963 to overrule the existing law and memorialize John F. Kennedy on the half dollar coin starting in 1964.
This year marked the highest overall production for circulation with nearly 90 million coins struck at the Philadelphia and Denver. The 1963-D actually has the highest mintage for a single issue of the series at 67,069,292.
The circulation strikes from Philadelphia are notable for their rarity in gem condition with full bell lines. This issue is a comparable conditional rarity with the 1961 half dollar in MS65FBL, although much more scarce in MS66FBL. The grading company PCGS has never graded a coin as such, while NGC has awarded the grade to only a single coin.
For the final proof issue of the series, the mintage declined slightly to 3,075,645. As for all other proof coinage of this era, the coins were issued only as part of complete Proof Sets issued by the US Mint for $2.10 each.
1963 Franklin Half Dollar Specifications
Designer: John R. Sinnock
Composition: 90% Silver, 10% Copper
Weight: 12.50 grams
Diameter: 30.6 mm
Edge: Reeded
1963 Franklin Half Dollar Mintages
1963: 22,164,000
1963-D: 67,069,292
1963 Proof: 3,075,645