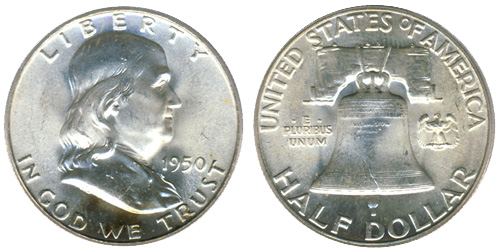 Although the third year of the series overall, the 1950 Franklin Half Dollar (Buy on eBay) represents the first year that the coins were minted in proof. The production of proof coinage at the Philadelphia Mint had been suspended in 1942, but resumed this year with the issuance of a full 1950 Proof Set priced at $2.10. Each coin of the set was placed within an individual cellophane sleeve stapled at the top and packaged in a square cardboard box. Some sets still survive as originally issued, although many coins reside in privately produced holders or third party grading holders.
The 1950 Proof Franklin Half Dollar has the lowest mintage for a proof coin of the series at 51,386. By the end of the series the mintages for proof coins had spiraled into the millions. Examples of this first issue which exhibit cameo or deep cameo contrast are infrequent and highly prized by collectors.
For circulation, the 1950 half dollars were minted at the Philadelphia and Denver Mints. The production levels were higher than seen in previous years at 7,742,123 and 8,031,600, respectively.
1950 Franklin Half Dollar Specifications
Designers: John R. Sinnock
Composition: 90% Silver, 10% Copper
Weight: 12.50 grams
Diameter: 30.6 mm
Edge: Reeded
1950 Franklin Half Dollar Mintages
1950: 7,743,123
1950-D: 8,031,600
1950 Proof: 51,386