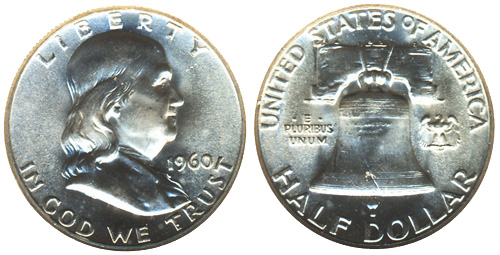 For the 1960 Franklin Half Dollar (Buy on eBay), the United States Mint introduced a newly reworked master die, which resulted in a very different appearance for the coins. Whereas, the issues from the mid-1950's onwards had a lack of detail in Franklin's hair and the Liberty Bell resulting in a sometimes mushy appearance, the new die produced coins with much crisper detail in the hair and features of the bell. On the other hand, the lines at the bottom of the bell were not as deeply cut, resulting in few examples with Full Bell Lines.
Production for circulation consisted of 6,024,000 coins struck at the Philadelphia Mint and 18,215,812 coins struck at Denver. These circulation strikes can be somewhat difficult to find in gem grades.
Proof coin production rose, with 1,691,602 of the 1960 Proof Franklin Half Dollars struck at the Philadelphia Mint. These coins were only included in the annual proof sets sold to collectors for $2.10 each.
1960 Franklin Half Dollar Specifications
Designer: John R. Sinnock
Composition: 90% Silver, 10% Copper
Weight: 12.50 grams
Diameter: 30.6 mm
Edge: Reeded
1960 Franklin Half Dollar Mintages
1960: 6,024,000
1960-D: 18,215,812
1960 Proof: 1,691,602