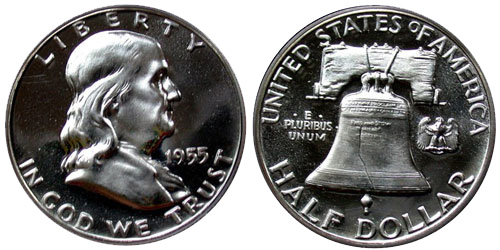 The 1955 Franklin Half Dollar (Buy on eBay) represented the first of two years when production was limited to only the Philadelphia Mint. The mintage levels also declined for these years, with the present issue having the lowest mintage for the entire series. Despite this fact, the coins do not carry a premium at grade levels through gem.
Production of proof coinage continued to expand, with the Philadelphia Mint striking 378,200 of the 1955 Proof Franklin Half Dollars. This year, the Mint would also begin packaging the popular annual sets in flat packs, which served as better long term storage for the coins. Quality of the proof coins also improved, with cameo and deep cameo finishes occurring more frequently than earlier years.
One of the most notable varieties of the series occurred this year, the other being the 1961 Proof Double Die. Known as the "Bugs Bunny" variety, it appears that two teeth are protruding from Franklin's mouth. This was created as the result of a die clash, which transferred the appearance of the eagle's wing tips to the obverse design. It is estimated that 1% or 2% of the mintage displays this characteristic. Some other issues of the series may also have the characteristic, but this year is the most well known and most common.
1955 Franklin Half Dollar Specifications
Designer: John R. Sinnock
Composition: 90% Silver, 10% Copper
Weight: 12.50 grams
Diameter: 30.6 mm
Edge: Reeded
1955 Franklin Half Dollar Mintages
1955: 2,498,181
1955 Proof: 378,200