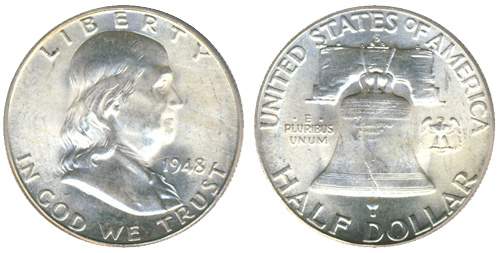 The 1948 Franklin Half Dollar (Buy on eBay) represented the first year of issue for the series. This followed the Walking Liberty design used from 1916 to 1947 and widely considered to be one of the most beautiful in the history of U.S. coinage. The coin collecting community response to the new design featuring one of the most important Founding Fathers and the Liberty Bell was reportedly unenthusiastic, although in time the series would gain its adherents.
While the series was in production, sets would be assembled by date and mint mark, however little attention was paid to the finer points such as Full Bell Lines, which would carry great importance with later collectors.
This year production took place at the Philadelphia and Denver Mint facilities with mintages of 3,006,814 and 4,028,000, respectively. As opposed to later years of the series, these two issues are known for exhibiting sharp details and bold strikes. As is the case with many first year of issue coins, these remain readily available in uncirculated grades since many were saved. Most will exhibit full bell lines on the reverse.
1948 Franklin Half Dollar Specifications
Designer: John R. Sinnock
Composition: 90% Silver, 10% Copper
Weight: 12.50 grams
Diameter: 30.6 mm
Edge: Reeded
1948 Franklin Half Dollar Mintages
1948: 3,006,814
1948-D: 4,028,600