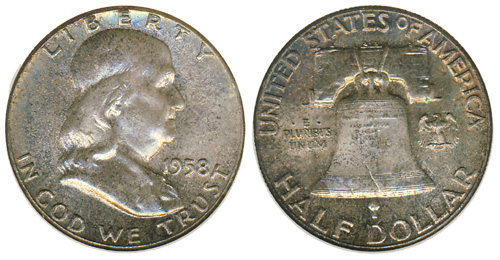 The 1958 Franklin Half Dollar (Buy on eBay) completes a trio of three consecutive years where circulation strike issues of the series are more readily encountered in high grades with full bell lines. From the following year until the conclusion of the series, there are numerous issues which are uncommon at the gem level with full bell lines and nearly all very infrequently encountered in grades higher than MS65.
For the present year, production for circulation took place at the Philadelphia and Denver Mints with final mintages of 4,402,000 and 23,962,412, respectively. Proof coins were struck at the Philadelphia Mint for inclusion in the 1958 Proof Set. For this year, collector orders dropped resulting in a mintage of 875,652.
This year represented the last time the US Mint would issue the annual uncirculated coin sets in paper and cardboard holders. This packaging had been used from 1947 to 1958 and imparted distinctive toning to the coins included in the sets. The following year, the uncirculated coin set would be offered in flat packs, similar to those used for the annual proof sets.
1958 Franklin Half Dollar Specifications
Designer: John R. Sinnock
Composition: 90% Silver, 10% Copper
Weight: 12.50 grams
Diameter: 30.6 mm
Edge: Reeded
1958 Franklin Half Dollar Mintages
1958: 4,042,000
1958-D: 23,962,412
1958 Proof: 875,652